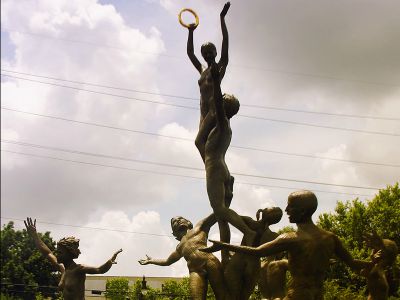 Musica Statue in Buddy Killen Circle, Nashville
Sculptor Alan LeQuire is known for two iconic Nashville works: Athena, the massive golden goddess at the Parthenon, and Musica, the largest bronze figure group in the U.S., anchoring Music Row's "turnaround" (or circular roadway). Note that there's not a way to get up close unless you walk over bushes and cross the roadway traffic; worth the effort, though!

The 38-ft-tall sculpture of nine nude figures, male and female, dancing in a circle, was considered a bit shocking when unveiled in 2003, although according to LeQuire the work is entirely tasteful and not at all sexualized. Five of the figures spring forth from the base, while four more rise up in the center floating above the others. The pinnacle of the statue is a female holding a tambourine. The scale of each figure is fourteen to fifteen feet, or more than twice life-size.

LeQuire writes of his work: "Dance is the physical expression of music and the piece is intended to convey that feeling to the viewer in a composition which is simple, exuberant and celebratory. The theme of the sculpture is music, because of the historical and economic significance of the site. This is the heart of Music Row, the area and the artistic activity for which Nashville is best known. The sculpture conveys the importance of music to Nashville, past, present and future, and represents all forms of music without reference to any one form or style. It is meant to provide a visual icon for the area and for the city as a whole. The theme is music, but the sculpture represents artistic creativity itself. An artistic idea often seems to miraculously and spontaneously burst forth. This is what happens in the sculpture, and the title Musica suggests this since it refers to all the 'arts of the muses.'"
Musica Statue in Buddy Killen Circle on Map
Walking Tours in Nashville, Tennessee