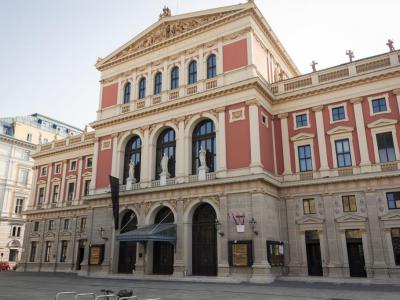 Musikverein (Vienna Philharmonic), Vienna
Two concert halls in one building, designed in the 1860s with dazzling gilding inside. The larger of the two, the Grosser Saal ("Great Hall"), has some of the best acoustics in the world – along with Berlin's Konzerthaus, the Concertgebouw in Amsterdam, and Boston's Symphony Hall – and is the unofficial home of the great Vienna Philharmonic Orchestra, which gives regular sell-out performances, while the other hall, the Brahms Saal, is used for smaller-scale chamber concerts.

The Musikverein's most prestigious event is the annual New Year's Day concert, a tradition started under the Nazis in 1939, and one which is now broadcast live around the world to an estimated 50 million viewers from 95 countries. If you are lucky to be in Vienna during the regular season (September-June), go for a real concert instead of a tourist-oriented one. While tickets for "proper" concerts may be sold out months in advance, other times they will be on sale up to the start of the performance. In any case, use the official box office on the left side of the building or the official website, as agencies are known to take a hefty commission.

The concert hall itself also has a rich musical history, as the place where Johann Strauss Jr. personally conducted the waltz "Freut Euch des Lebens" (Life Let Us Cherish – composed for the opening ball), and where Arnold Schönberg unleashed atonal music – or as Schönberg preferred to call it, "the emancipation of dissonance" – on an unsuspecting and unready Viennese public.

Why You Should Visit:
The building is intricately beautiful and the guided tour, fascinating.
The area itself is very happening so you should be checking it out.

Tip:
One must enter a computer lottery to win the chance to buy tickets for events, but it is well worth the effort.
One could also get a (cheaper) last-minute standing room ticket if one tries.
Musikverein (Vienna Philharmonic) on Map
Walking Tours in Vienna, Austria
Useful Travel Guides for Planning Your Trip
--- Top 16 Austrian Things to Buy in Vienna
Vienna stool, Viennese schnitzel, Viennese waltz, Vienna sausage, Viennese apple strudel... There's so much Vienna to it, that you might think you've heard it all. Luckily, chances are that you haven't and there's much more in store left to be discovered about this fascinating... 7 Ultimately Austrian Foods to Taste in Vienna
Once the center of the vast Hapsburg Empire, stretched from France in the West to Russia in the East, Austria has embraced many ethnic influences in its cuisine over the course of centuries. Many of the country's distinctive dishes reflect its multinational heritage. Coffee culture, for...