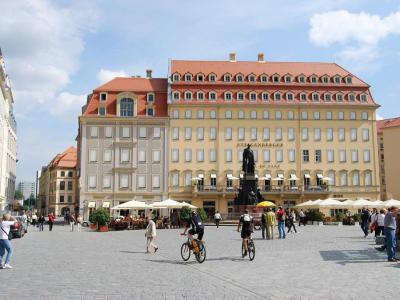 Neumarkt (New Market Square), Dresden
The New Market Square location was originally outside of the city walls. During Renaissance times, Dresden expanded and the New Market Square area became part of the main city in 1548. However, New Market Square was constrained by the Church of Our Lady's large graveyard.

New Market Square has seen centuries of historical and political events. In 1601, the Calvinistic reformist chancellor Krell was executed here.

New Market Square continued to evolve during Augustus the Strong's reign. The Church of Our Lady was completed in 1743 and changed the look of the square. The square was damaged during the Seven Years' War between 1756 and 1763. As a result, several buildings were rebuilt in late baroque style.

World War II bombs heavily damaged the square. The rebuilt Church of Our Lady was finally completed in 2005 and the square continues to be revitalized.

The square features a bronze statue of Martin Luther that was created in 1885 and survived the World War II bombings.

Today, the square is a popular shopping center, and visitors and residents enjoy outdoor dining in the square's cafes and restaurants.
Neumarkt (New Market Square) on Map
Walking Tours in Dresden, Germany