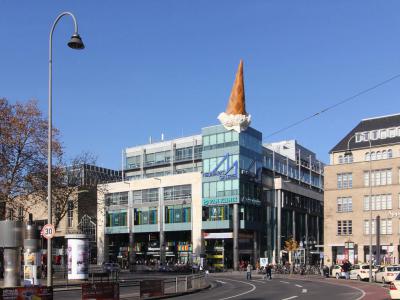 Neumarkt Galerie, Cologne
Cologne is one of the beautiful cities in Germany where you can find an extensive range of museums galleries and shopping centers. If you are an avid shopper, you must not miss a visit to the Neumarkt Galerie on your trip to this city.

This is the largest shopping center in Cologne and the beautiful building features a stunning ten meter artwork that depicts the dropped cone or the upside down ice cream cone. This artwork is the crown of the building and was created by Van Brugge and Oldenburg, two American artists.

Enter the shopping center and you will immediately notice its friendly and pleasant environment. The granite floor is indirectly lit by the light in the ceiling. A striking effect is produced by the dark colored wooden hand rails and the stainless steel and glass structure. There are a total of three floors housing 65 shops in this complex.

At the center of Nenmarkt Galerie, you can find the forum. Located under a huge glass copula, this forum has a round lighting unit. Shops at the ground and upper level sell a variety of unique and interesting jewelry, fashion clothing and shoes from popular brands. Visitors find respite from shopping as they relax at the bistros, restaurants and cafes. Visit this vibrant and lively market and enjoy shopping to your heart's content.
Walking Tours in Cologne, Germany