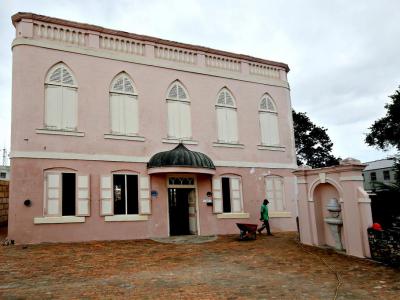 Nidhe Israel Synagogue, Bridgetown
The Nidhe Israel Synagogue is currently the only synagogue situated in Bridgetown. It also holds the distinction of being one of the oldest synagogues in the western hemisphere and a Barbados National Trust property. In 2011 the Synagogue and excavated Mikvah were designated as UNESCO protected properties within the World Heritage Site of Historic Bridgetown and its Garrison area.

Built in 1654, it was destroyed by a hurricane in 1831, was rebuilt, fell into disrepair until it was sold in 1929. Haim Isaac Carigal was in Barbados, perhaps acting as rabbi of the congregation, at the time of his death in 1777. About 300 Jewish people of Recife, Brazil, persecuted by the Portuguese, settled in Barbados in the 1660s. Skilled in the sugar industry, they quickly introduced the sugarcane crop and passed on their skills in cultivation and production to the Barbados land owners. With their help, Barbados went on to become one of the world's major sugar producers and one of the richest European territories in the West Indies. The Nidhe Israel Museum was opened in 2008.
Sight description based on wikipedia
Nidhe Israel Synagogue on Map
Walking Tours in Bridgetown, Barbados