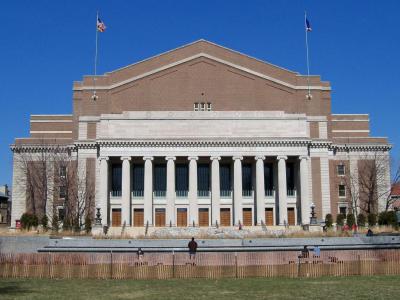 Northrop Auditorium, Minneapolis
Cyrus Northrop Memorial Auditorium (commonly known as Northrop Auditorium or simply Northrop) is a performing arts venue at the University of Minnesota. It is named in honor of Cyrus Northrop, the university's second president. Various events are held within the building, including concerts, ballet performances, lectures, and graduations.

Northrop anchors the north end of Northrop Mall. Coffman Memorial Union sits at the south end of the mall, opposite Northrop across Washington Avenue.

Northrop Auditorium was built between 1928 and 1929 as part of a major university expansion project. An auditorium had been part of Cass Gilbert's plan for Northrop Mall dating back to 1908, but it wasn't until 1922, when Cyrus Northrop died, that the university took serious interest in the project. Northrop Auditorium was dedicated both as a memorial to Cyrus Northrop and to the veterans of World War I.

Since its construction, Northrop has been frequently used for a variety of university functions. The auditorium was purportedly designed in 1929 to seat the entire student population in the event of mass assembly. It became the primary venue for university graduations when it hosted its first graduating class in 1930.

Dance has been a part of Northrop's programming since Mary Wigman first performed on its stage in 1932. However, it was not until the 1970s that it became Northrop's signature marketing niche. The Northrop Dance Season debuted in 1970-1971 and continues to the present day. The size of Northrop's stage makes it one of the only facilities in the region capable of accommodating major dance productions.
Sight description based on Wikipedia.
Northrop Auditorium on Map
Walking Tours in Minneapolis, Minnesota