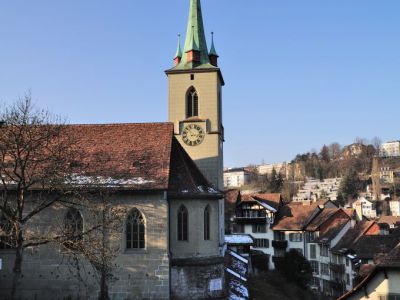 Nydeggkirche (Nydegg Church), Bern
At the eastern edge of the Old City of Bern lies Nydeggkirche, or the Nydegg Church. This church was built in 1341 and completed in 1346. The original tower replaced an old fortress in the city, but it was refurbished over the years once it was sanctified to the Mary Magdalene Brotherhood. A tower and new nave were added in the late 15th and early 16th centuries to complete its renovation.

Nydeggkirche suffered its share of losses. The Protestant reformation caused the church to be used as a warehouse for a brief time. A fire caused significant damage to the bell tower, roof and clockwork. Luckily, repairs were possible and the church has been in service for more than 400 years.

Today, the Nydeggkirche is a part of the Reformed Churches of the Canton Bern-Jura-Solothurn. Visitors are welcome to take part in services or to admire the Gothic architecture. They may also wish to view the church to pay homage to one of the first European churches to perform a same-sex union.

Tip:
From the banks of the river, you can take a photo of the Nydegg Church and the Nydegg Bridge.
Nydeggkirche (Nydegg Church) on Map
Walking Tours in Bern, Switzerland
Useful Travel Guides for Planning Your Trip
--- Swiss Sweets and Pastries
Among other things that make Switzerland popular around the world, chocolate is definitely the one. Still, chocolate isn't the only Swiss-made sweet deserving attention, as there are plenty of baked products, such as Magenbrot, Vermicelles, and Biberli, to mention but a few, that are well worth...