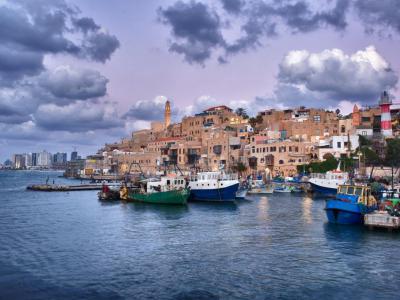 Old Jaffa Port, Tel Aviv
(must see)
Old Jaffa Port in Tel Aviv, is a site of immense historical and cultural significance, with a rich history that dates back over 7,000 years. As one of the oldest known ports in the world, it has been a pivotal location in the Eastern Mediterranean, playing a crucial role in various historical events and narratives.

The port is deeply intertwined with the origins of the city of Tel Aviv itself. Throughout history, it has been mentioned in several ancient works, including the Hebrew Bible. Notably, it is cited as the departure point for Jonah, a figure in Jewish history. The port also features in accounts of the First Jewish Revolt against Rome, underscoring its significance in Jewish heritage.

Jaffa Port's strategic importance is highlighted by its usage by a diverse range of cultures and empires. It has seen the presence of Egyptians, Ethiopians (with legends such as Andromeda being chained to a rock here), Philistines, and the Jewish nation, including notable figures like King Solomon and Jonah. Additionally, it has been under the control of various empires such as Babylon, Alexander the Great, and in more recent history, the Ottoman, French, and British empires, before becoming part of Modern Israel.

Despite being smaller than the ports of Haifa and Akko, Jaffa Port retains its iconic status and continues to be a major cultural attraction. Its enduring appeal draws tourists globally, offering a blend of historical insight and modern amenities. The port remains operational, serving local fishermen and salesmen, and also houses modern facilities like art and photography exhibitions. The surrounding cultural centers provide visitors with a deeper understanding of this fascinating location.

The area around Jaffa Port is also known for its culinary and shopping experiences. It boasts several renowned restaurants, beautifully decorated warehouses, and a selection of shops. The port's promenade is particularly appealing, offering a refreshing sea breeze that is especially enchanting at sunset. During this time, the area is bathed in a beautiful orange glow, creating a picturesque scene cherished by both locals and tourists.

Tip:
Use the promenades – extending both north and south – for nice walks and for views over the old town walls and shoreline (the better views are probably from the top looking down).
Walking Tours in Tel Aviv, Israel