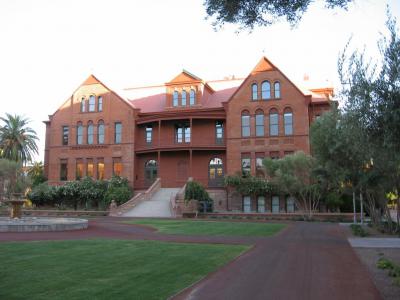 Old Main, Phoenix
The Old Main is the oldest building on Arizona State University's campus in Tempe. This building was dedicated in 1898 and still cuts an impressive figure with its three stories. One of the firsts that this building boasts is being the first building in Tempe to feature electricity.

One of The Old Main's claims to fame was serving as the setting where Teddy Roosevelt gave his address when the dam that bears his name was dedicated. The house has been on the National Register of Historic Places since 1985. Restoration efforts during the 1990s helped restore this building to its original state.

Two Joseph M. Henninger murals dating back to the 1930s are on display. "Industrial Development in Arizona" offers a look at how this state grew through technology, and "Spanish Influence in Arizona" provides insights into the impact of Spanish culture. Both of these murals are impressive displays worthy of your time.
Walking Tours in Phoenix, Arizona