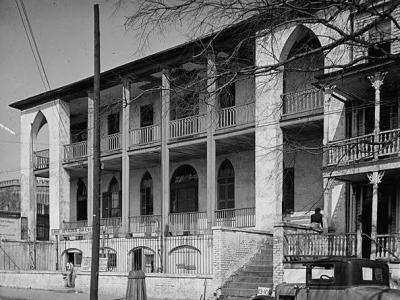 Old Marine Hospital, Charleston
Designated as a National Historic Landmark, the Old Marine Hospital stands as a testament to the architectural prowess of Robert Mills, a Charleston native often hailed as the first professionally trained American architect. Known for his work on iconic structures like the Washington Monument and numerous public buildings across the nation, Mills also played a role in the development of a standardized design pattern for marine hospitals, using the one in Charleston as a model. Remarkably, out of approximately 30 marine hospitals constructed before the Civil War, only eight have survived to this day.

During its construction, the Old Marine Hospital became a focal point of controversy in Charleston's antebellum era. It was perceived by proponents of states' rights as a symbol of the Federal government's overreach, as funding for the hospital was deducted from sailors' wages and supplemented by taxes imposed on the shipping industry. This intervention sparked resentment among many Charlestonians, who were already frustrated with the heavy-handed involvement of the Feds. The appointment of Mills and other professionals from Washington D.C. to oversee the project, along with increased costs, further fueled resentment among supporters of states' rights. By the time the structure was completed in 1834, it was largely rejected by the local community as an unworthy civic achievement.

Despite the controversy, Mills created a building of exquisite charm and refinement. The building's subtle Gothic elements, such as pointed arches, windows, and clustered columns, evoke the aesthetics of medieval religious architecture; even the delicate porch railings were designed to mimic the tracery found around Gothic stained glass windows. The use of piazzas, a common feature in Charleston's domestic architecture, served both practical and climatic purposes, offering protection from the elements.

Following the Civil War, the building was repurposed as a free school for black children by the Episcopal Church. From 1895 to 1939, it served as the Jenkins Orphanage, known for its renowned band that embarked on fundraising tours across the United States and Europe. In 1939, the Housing Authority of Charleston acquired the building for administrative offices, a role it continues to fulfill to this day.
Old Marine Hospital on Map
Walking Tours in Charleston, South Carolina