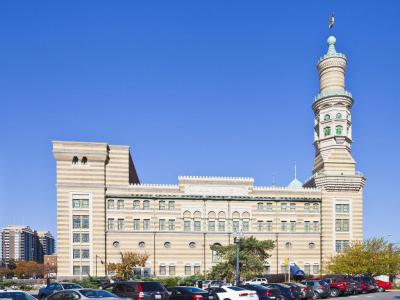 Old National Centre, Indianapolis
The Old National Centre, founded in 1884, is owned by the Murat Shriners of the Ancient Arabic Order of the Nobles of the Mystic Shrine. The theater portion of the building (now known as the Murat Theatre at Old National Centre) houses the oldest stage house in downtown Indianapolis that is still standing today. It is the only Shrine Center in the world with a French-originating name, and it is the largest Shrine Center in North America.

In 1882, five Freemasons decided they wished to see a Shrine organization in Indianapolis. The Murat Temple was built in 1909 using the designs of Murat Shriner Oscar D. Bohlen, with Middle Eastern and Egyptian stylings that were fitting for a building intended for Shriners. Its namesake is the Nubian Desert oasis Bir Murat, which was named for the Frenchman Joachim Murat, who was one of Napoleon's generals in his Egyptian campaign.

The Murat Shrine is mostly known by the people of Indianapolis for its theater, which was built in 1910. In its early days it featured Broadway plays and even a 1932 speech by Winston Churchill. Between 1948 and 1963, it was the only road show venue in Indianapolis. Before Clowes Memorial Hall opened in 1963, it was the home of the Indianapolis Symphony Orchestra.

The Murat Shrine gave the Indianapolis Zoo its first camel and established the 500 Festival Parade.
Sight description based on Wikipedia.
Old National Centre on Map
Walking Tours in Indianapolis, Indiana