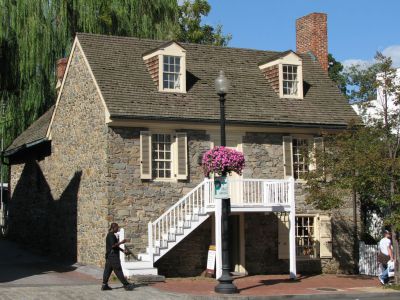 Old Stone House, Washington D.C.
The Old Stone House in Georgetown is a significant historical site, showcasing the oldest surviving example of Pre-Revolutionary Colonial architecture in the United States still standing on its original foundation. This site offers a glimpse into a bygone era, a time before the existence of the United States and before the Revolutionary War.

The Old Stone House exemplifies vernacular architecture. Its outer structure, made of blue granite and fieldstone, was sourced from a site about 2 miles away, near the Potomac River. The walls of the house vary in thickness, ranging from two to three feet. The oak used in constructing the house was obtained from the forests that were once abundant in the Georgetown area. Adjacent to the house, there is a Colonial Revival garden, enclosed by a white picket fence. This garden extends 399 feet in depth and spans 76 feet in width. Within the garden, you'll find roses, perennial plants, and bulbs carefully arranged throughout.

One of the enjoyable aspects of visiting this venerable homestead is immersing oneself in the local legends surrounding it. Over the years, there have been claims that it served as the Engineering Headquarters for General George Washington. Another piece of folklore suggests that Suter's Tavern, a famous establishment frequented by notable figures like George Washington and associated with land deals that led to the establishment of Washington, D.C. as the "Federal City," once stood here. Unfortunately, there is no concrete evidence to support either of these historical tales.

In 1953, the United States Government acquired the land and the house, transforming it into a museum now maintained by the National Park Service. The Old Stone House is part of the Georgetown Historic District, which holds significance as a National Historic Landmark.
Walking Tours in Washington D.C., USA
Useful Travel Guides for Planning Your Trip
---