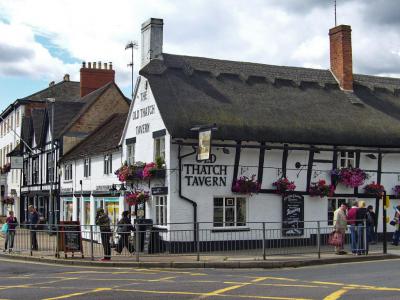 Old Thatch Tavern, Stratford-upon-Avon
Housed in a traditional Tudor-style building with a timeless (over 500 years old!) thatched roof, the Old Thatch Tavern is a visible landmark of Stratford-upon-Avon.

The Old Thatch Tavern became an ale-house in 1470 and is possibly the oldest pub in town within the same building. The claim comes from its licensing date of 1623 – other local pubs possibly not had an official license until later.

Being the last remaining thatched-roof property in Stratford, the tavern has no difficulty attracting visitors with its well-maintained period décor and very English cuisine – quality homemade food based on as much local produce as possible. Added to their traditional menu is also a specials board which is changed on a weekly basis.

Another feature contributing to the rich tapestry of this historic location is a murky tale of murder on Christmas Day 1795. The spirit of the victim, Joseph Pinfield, is said to continue haunting the place to this very day…

For any of these reasons, perhaps you should pay a visit here too.
Walking Tours in Stratford-upon-Avon, England