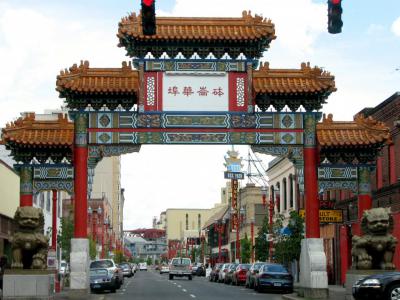 Old Town Chinatown Gateway, Portland
Serving as the official entrance to Portland's Old Town Chinatown neighborhood, this 38-ft (12 m) tall "paifang" made of bronze, marble, granite, wood, tile, and steel features eye-catching depictions of 78 dragons and 58 mythical characters. As tradition requires, one bronze lion is male and the other is female (representing yin and yang), while the Chinese letters on the front and back read "Portland Chinatown" and "Four Seas, One Family", respectively.

The gate was proposed by the Chinese Consolidated Benevolent Association in 1984, who've designated Taiwanese architects and artists to complete its design before having it shipped to Portland and presented to the City of Portland as "gesture of goodwill from the Chinese community". The gate cost $256,000 and was the largest of its kind in the United States until one in Washington, D.C. was completed several months later.

Tip:
Among other main attractions in Old Town Chinatown are the Lan Su Chinese Garden, the Portland Saturday Market; the Shanghai tunnels, where people used to be kidnapped, smuggled, and sold as slaves; the Skidmore Fountain and the very famous Voodoo Doughnut. If you are in the mood for dancing, here you will find some of the city's best night clubs also.
Old Town Chinatown Gateway on Map
Walking Tours in Portland, Oregon