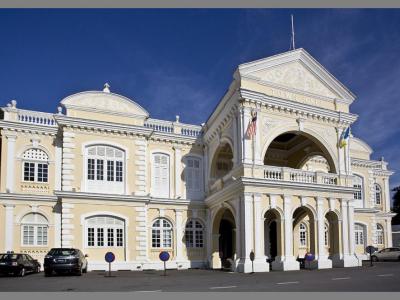 Old Town Hall, George Town
The Town Hall is located at Padang Kota Lama, the waterfront esplanade surrounded by historical landmarks. George Town, named for King George III, was founded by Captain Francis Light in 1786. The Town Hall main building was completed in 1883. There was an assembly hall, a library, and a grand ballroom.

An annex was built in 1890. A porch and another upper floor added in 1903. The left wing of the hall was added in 1930. The hall is the city's oldest civic building and the former home of the Municipal Commission of George Town. It was also a watering hole for the European elites in the happy days of Empire, no natives allowed.

The Municipal Commission found the hall space to be insufficient. Another building was constructed next to the Town Hall in 1903. It became the new Municipal Offices. It was officially renamed City Hall in 1957, when the town was granted city status. The Town Hall continued as a venue for social and music events.

In 1993 the Municipal Council moved for demolition of the building. The Malaysian National Museum intervened however, and identified the Hall as an historical monument. The Town Hall is currently used for public celebrations, concerts and art exhibitions. It is part of the George Town Festival in August.
Walking Tours in George Town, Malaysia