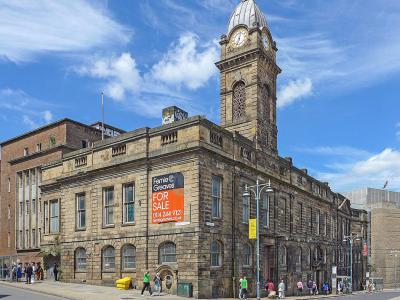 Old Town Hall, Sheffield
Sheffield Old Town Hall in Waingate is a listed building that has been in place, opposite Castle Market, since the 1890s. The very first mention of a "Sheffield Towne Hall" dates back to 29 September 1637 and was found in William Harrison's Survey of the Manor of Sheffield. That early "Towne Hall" was replaced by a new building in 1700, designed by William Renny. It stood on a different location, next to the parish church, with little space for extension.

The third town hall, known as the "Old Town Hall", was designed by Charles Watson, in the Neoclassical style, and was built between 1807 and 1808. It was extended in 1833 and then again in 1866, during which time it had a new central clock tower added (over a new main entrance, that reoriented the building towards Waingate), which was designed by Flockton & Abbott. The prominent feature was built using the materials obtained from parts of the demolished predecessor building.

By the 1890s, the Town Hall had again proved too small for Sheffield's growing administration, and the current Town Hall was built further south. Following the extension between 1896 and 1897, it became the seat of the Crown Court and the High Court. The drinking fountain on the Castle Street side of the building was also added at that time.

In 1973, the Old Town Hall was listed as a heritage property. In the 1990s the courts moved to the new premises, and since then the vacated building has been considered for usage as serviced apartments, shops, cafes and hotel rooms.
Sight description based on Wikipedia.
Walking Tours in Sheffield, England