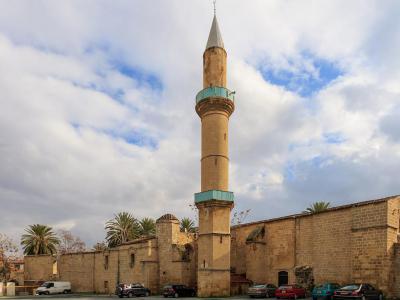 Omeriye Mosque, Nicosia
The Omeriye Mosque has gone through several transformations throughout its history. The building was originally built in the 14th century as the Augustinian monastery of St. Mary. The monastery originally had six acres of grounds and featured orchards, a sugar plantation, fields, and gardens.

In 1570, the monastery was mostly destroyed by Ottoman invaders. In 1571, Ottoman ruler Lala Mustafa Pasha converted the monastery into a mosque. Tombstones from the monastery were used to repair the floor.

The Ottomans believed that the Prophet Omar, the second caliph of Islam, had rested here during the 7th century. So the mosque was named in Omar's memory. The Omeriye Mosque features Ottoman-Turkish architecture with a tall minaret, arches, and small domes. The interior features several beautiful paintings.

The mosque is open to visitors who can climb the minaret for outstanding views. In addition, the mosque features a beautiful garden.
Walking Tours in Nicosia, Cyprus