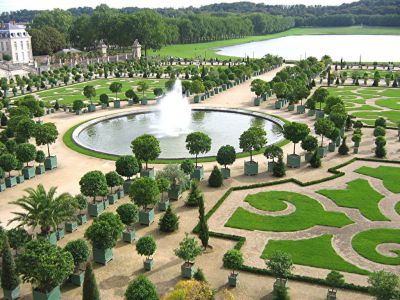 Orangerie Fountain, Versailles
(must see)
The buildings and gardens of Versailles are beautiful and diverse. The Orangerie is one of the finest examples of the whims of the kings of France.

King Louis 14th transformed the hunting lodge used by his grandfather Louis 13th, into the magnificent Palace of Versailles during three separate building campaigns. One of the first buildings to be completely finished was the Orangerie, built between 1684 and 1686, by the king's favorite architect Jules Hardouin Mansart.

The building consists of a central gallery, 150 metres long and 21 metres wide with a high vaulted ceiling and tall arched windows facing the south for maximum sunlight. This gallery has two lateral galleries 117 metres long, which are under the famous "Cent Marches" stairway.

The gardens are spread around a central pond with a fountain. Around the pond are walkways and four lawns that are laid out in geometrical patterns. From May to October plants are brought out from the buildings and set out in large square tubs lining the paths.

Some of these plants and trees are over 200 years old and every year they are laden with fruit or flowers. You can admire Oleanders with their crêpe-paper red, pink and white blossoms, slender palms and orange, lemon and pomegranate trees from Italy, Spain and Portugal.
Orangerie Fountain on Map
Walking Tours in Versailles, France