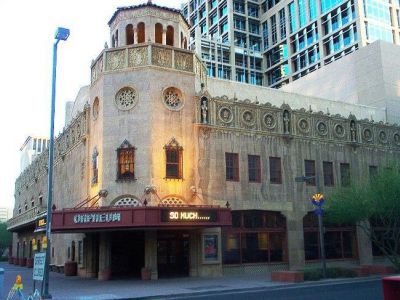 Orpheum Theater, Phoenix
The Orpheum Circuit was a chain of theaters around the country that hosted movies and vaudeville shows. It was begun in 1886 and continued until 1927 when it became part of Radio Keith Orpheum (RKO) corporation.

The Phoenix theater was built from 1927 to 1929. It's a 1,364-seat theater built in the Spanish Revival style, with Spanish Baroque architecture. Like many themed 1920s theaters, the Orpheum was designed to provide an immersive experience for theatergoers. The murals and moldings inside the building are designed to make theatergoers feel like they're watching the shows outdoors.

The theater was owned by a host of various chains over the years, including Paramount and Nederlander, who showed Broadway productions there and called it the Palace West. During the 70s and 80s, a local company used it for Hispanic events and movies. It was purchased by the city in 1984 and fully restored at the cost of $14 million. It reopened in 1997 as the Orpheum. It hosts Broadway musicals, concerts, and other special events. It is also the home to the Phoenix Opera. In 2020, special film screenings began showing throughout the year, adding movies to the list of noteworthy events you can still see in this beautiful facility.

Since 1985, it has been listed on the National Register of Historic Places. Visiting the lavishly appointed theater from the golden era of film and vaudeville is a real treat. The facility has been meticulously maintained to appear as it did when it first opened.
Walking Tours in Phoenix, Arizona