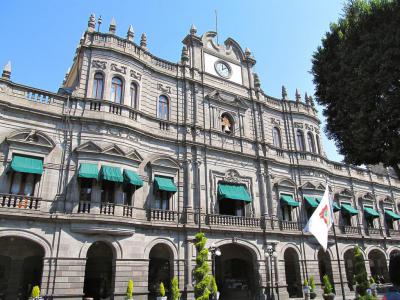 Palacio de Gobierno (Government Palace), Puebla
Another fascinating sight awaiting visitors to the Historic Center of Puebla is that on Avenida Don Juan de Palafox y Mendoza, in front of bustling Zócalo de Puebla.

The Palacio de Gobierno (Municipal Palace) is the seat of the Puebla City Council and a beautiful architectural landmark. This brilliant piece of work, made in gray cantera stone, features an exquisite façade in Elizabethan style (with some Neoclassical and Italian Renaissance influences), and was completed from 1887 to 1906 to a design by English architect Charles T.S. Hall.

Historically, the municipal authorities have been on this site since 1536. The very first municipal palace consisted of only three rooms and occupied just a quarter of the present space. In the early 17th century, it was added with a second floor.

In 1714, the then city mayor Juan José de Veytia y Linaje began construction of the second palace, raising it from the ground. In 1897, the need for another (third), modern council building emerged. Architect Hall, hired for the job, opted to retain parts of the preceding structure, particularly taking advantage of its heavy masonry and quarry walls. The official inauguration of the third palace took place in November 1906.

Inside it, the Salón de Cabildo (Council Hall or Sessions Room) houses the original of the Royal Certificate signed by Isabel of Portugal and dated March 2, 1532, whereby Puebla was granted the title of Angelopolis ("City of Angels").

Outside the Council Hall, which itself is richly adorned with plasterwork (a clear example of the French influence), you can see a relief depicting the city along with the images of peace, labor and the arts. Below the relief is a stone plaque, previously attached to the outer wall of the second palace, commemorating the 1714 remodeling, complete with the lintel and jambs from the first building.
Sight description based on Wikipedia.
Palacio de Gobierno (Government Palace) on Map
Walking Tours in Puebla, Mexico