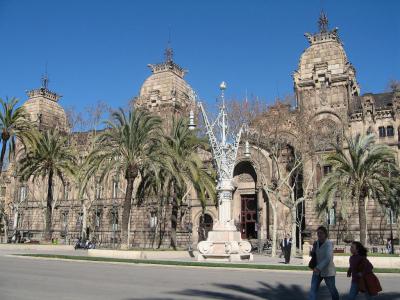 Palau de Justicia (Palace of Justice), Barcelona
The grand edifice, constructed between 1887-98, is a collaborative work of renowned architects Domènech Estapà and Enric Sagnier, who, although not as famous as Antoni Gaudi, have left their mark on Barcelona's architectural landscape. Sagnier's versatile style encompassed elements of Neo-Baroque, Neo-Gothic, and Modernista, allowing him to adapt his designs to suit each unique structure. Among his notable works in Barcelona are the Caxia de Pensions building, the New Customs House, and the church on Tibidabo.

The palace itself showcases a monumental style, distinguished by eight domes reminiscent of Northern European architecture and adorned with intricate sculptural details on its facades. The ornate decoration combines classical motifs with modernist elements. Welcoming visitors through a portico and staircase, the main entrance leads to a well-lit vestibule featuring a vibrant stained glass skylight. The arch of the portico proudly displays the engraved name of the building, topped by a sculptural masterpiece by Agustí Querol depicting Moses and the Tablets of the Law. Inside, the building showcases impressive mural paintings by Josep M. Sert from 1908.

An exceptional feat of engineering, the interior structure, designed by engineer Joan Torras Guardiola, stands out with its well-organized, luminous, and spacious areas, captivating the eye and adding a touch of modernity to the overall architectural ensemble.
Palau de Justicia (Palace of Justice) on Map
Walking Tours in Barcelona, Spain
Useful Travel Guides for Planning Your Trip
---