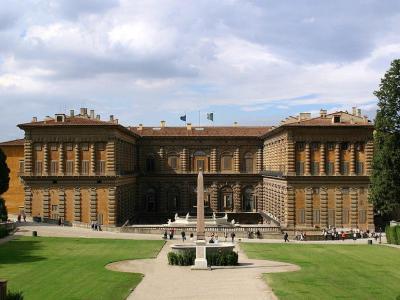 Palazzo Pitti (Pitti Palace), Florence
(must see)
The Pitti Palace is yet another architectural marvel in Florence to miss which would truly be a regrettable omission. Its main highlight is undoubtedly Renaissance architecture, coupled with the spectacular gardens every turn of which breathe new adventure.

Today the enormous palace brings under one roof several museums, whereas originally it was the official (last) residence of the incredibly powerful Medici family from the 16th to the 18th century. First built in the second half of the 15th century for Luca Pitti, it was still unfinished at the time of his death in 1472. In the year 1550, the palace was bought by Eleonora di Toledo, wife of the Grand Duke Cosimo I de' Medici. When the Medici dynasty came to an end, the property fell into the hands of the House of Lorraine and, in the early 19th century, Napoleon Bonaparte used it as a power base during his reign over Italy.

Everything about this palace oozes class, be it the Palatine Gallery with over 500 paintings, or the lavish Royal Apartments of the Medicis, or the "Medici Treasury" with the priceless 15th-century silver, or the Costumes Gallery, or the Porcelain and Carriages Museums. The impressive painted ceilings, walls and ground decorations project the image of a private royal residence despite the fact since 1919, the palace itself and everything inside have been the property of the Italian people, nowadays attracting over 5 million visitors each year.

***MEDICI LANDMARK***
Here you will find perhaps the greatest concentration of all things Medici in Florence! The artwork formerly owned by the family, and displayed elsewhere, may possibly dwarf the contents of the Pitti in terms of value, but the palace has an incredible array of furnishings and interior decoration!

Tip:
With a combined full ticket to the Pitti Museums and Gardens, you can enjoy two days of access. If you have ample time, consider spending around 3hrs leisurely exploring the gardens, but don't forget essential items like a hat and a bottle of water to stay comfortable.
To avoid lengthy queues at the palace, opting for a guided tour is a wise choice. Although there is an associated cost, the tour offers the advantage of skipping the line, saving you valuable time in Florence. Moreover, knowledgeable guides will lead you directly to the highlights of the collections, ensuring you don't miss any important exhibits that might be challenging to locate on your own. Embracing this option is a smart move for an efficient and fulfilling visit to the Pitti Palace.
Palazzo Pitti (Pitti Palace) on Map
Walking Tours in Florence, Italy
Useful Travel Guides for Planning Your Trip
---