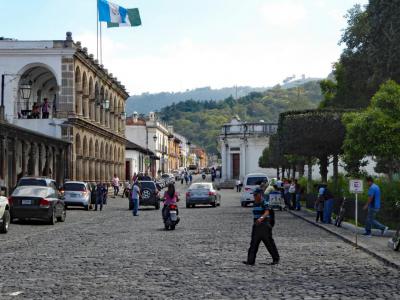 Parque Central (Central Plaza), Antigua
(must see)
One of the reasons so many visitors enjoy visiting Parque Central is because of its popularity as a gathering place. There are plenty of trees that provide shade, as well as benches that encourage enjoyment of this space. There is a central fountain featuring a mermaid, a replica of a fountain from 1738.

This park stands out as part of Antigua's central square area. The Colonial-era buildings that line the park help add to its Old World charm. Some of the nearby landmarks you'll be able to spot include The Museum of Santiago de los Caballeros and Palacio de los Capitanes.

If you enjoy handcrafted items, there are local artisans who set up along the walkway areas every day. Marimba bands also regularly play at night, providing a lively backdrop for activity in the area. Regardless of whether you're sightseeing, shopping for crafts, enjoying the music, or people-watching, you're sure to have a great time.
Parque Central (Central Plaza) on Map
Walking Tours in Antigua, Guatemala