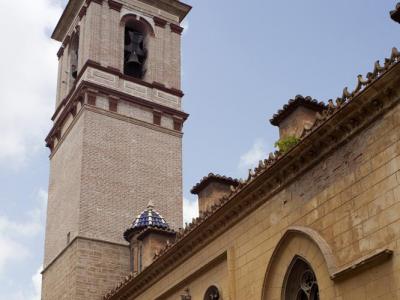 Parroquia de San Nicolás de Bari y San Pedro Mártir (Church of San Nicolas), Valencia
(must see)
The Church of San Nicolas is a Roman Catholic parish church. It was erected in 1242 and remodeled in the mid-15th century at the behest of the Borja family. The interior was completed in 1693. Some architectural aspects of the church were added as late as the 19th century.

Because of the expansive refurbishments and additions over the years, visitors at the Church of San Nicolas are greeted with many different architectural styles. These styles include Valencian Gothic, Neo-Gothic and Baroque. A recent restoration of the church has revealed a massive pictorial display that rivals the Sistine Chapel for its size and intricacy.

Visitors may take guided tours or can explore the church on their own. The church is open from Tuesday through Sunday. On weekdays, visitors are welcome from 10:30 am to 7 pm, from 10 AM to 6:30 PM on Saturdays, and from 1 pm to 7 pm on Sundays.
Parroquia de San Nicolás de Bari y San Pedro Mártir (Church of San Nicolas) on Map
Walking Tours in Valencia, Spain