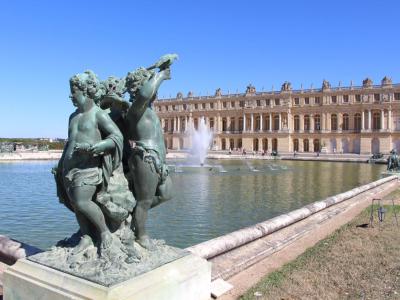 Parterre d'Eau, Versailles
The most amazing feature of Versailles is, of course, the numerous fountains, ponds and lakes, especially when you think that the water was pumped up from the Seine using ingenious 17th century technology. One of the most popular of these waterways is the Parterre d'Eau.

The Parterre is a terrace between the Chateau and the gardens. It has two huge rectangular ponds – hence its name. Planning to lay it out started in 1672 and in 1674 Louis 14th ordered 24 statues to grace the terrace. The commission was known as the Grande Commande.

These statues were executed by various master sculptors and comprised the Four Seasons, the Four Continents, the Four Elements, the Four Humors of Man, the Four Poems and the Four Hours of the Day. Several other statues representing figures from mythology were also commissioned.

The statues are spread out in other gardens as the first plans for the terrace were scrapped in 1685 in favor of the Parterre you can visit today. The two ponds are decorated with figures in bronze representing rivers and their important tributaries.

The Seine and the Marne were created by Le Hongre, the Garonne and the Dordogne by Coysevox, the Loire and the Loiret by Regnaudin and the Rhône and the Saône were by Tuby.

The water nymphs and groups of children were by Le Gros, Van Clève, Poultier and Lespingola.
Walking Tours in Versailles, France