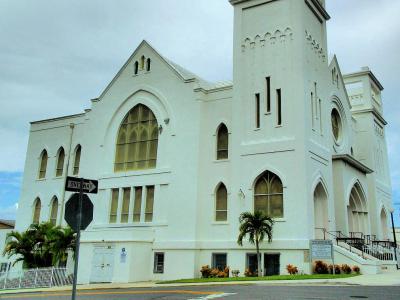 Payne Chapel AME Church, West Palm Beach
Located on Ninth Street, the Payne Chapel African Methodist Episcopalian Church was established in 1893. It is one of the oldest churches in Palm Beach County. The original church was located on Banyan and Tamarind Avenue, in the Styx, and was named the Bethel Chapel. The church received its current name in 1894.

The original founders were Ed Walstine, Philip Akery, Bell Jones, Susan Gee Cook, Margaret Akery, D. Jones, and Haley Mickens. The original trustees were J.J. Gordon, D.J. Jones and Philip Akery. In 1928, a hurricane destroyed the church. In 1937, construction on the second church, located on Ninth Street, was completed. During 1963 to 1968, the current church was built.

The AME religion was founded in 1816 by Reverend Richard Allen to serve the needs of black parishioners who wanted autonomy. The African Methodist Episcopalian church roots are Methodist, not African, while its government is Episcopalian in nature. People of all races are welcome to attend services.

For over 100 years, the church has worked tirelessly to carry out its mission to "promote the spiritual, intellectual, and economic growth of all people." Church services are at 9:30 am on Sunday. Outreach ministry services are at 11:30 am and bible study is at 7 pm on Wednesdays.
Payne Chapel AME Church on Map
Walking Tours in West Palm Beach, Florida