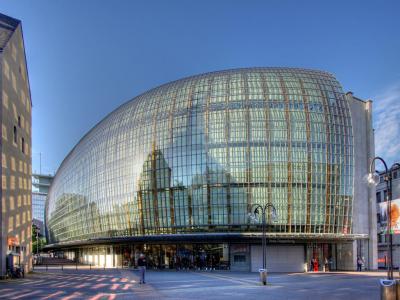 Peek & Cloppenburg Weltstadthaus (Global City Building), Cologne
The Global City Building is a dramatic modern building that houses the Peek & Cloppenburg department store. To some viewers, it resembles a whale, and to others, it resembles a ship. Residents call it the Walfisch, which can be translated as the whale.

Italian architect Renzo Piano designed the Global City Building, which was completed in 2005. The building's atrium is 36 meters (118 feet) tall. The building bridges the gap between Cologne's modern and classic architecture. The modern wood and glass facade reflects the nearby Gothic church, while the stone facade faces the more recent concrete buildings.

The glass facade features 6800 individual glass panes and 66 enormous Siberian larch beams. The northern facade features natural stone. The glass dome is only supported in a few locations. It is supported by tension cables and attached to the fourth floor.

The Global City Building is a fabulous example of Cologne's modern architecture.

Weltstadthaus in Cologne is a modern, multi-story building that offers a range of high-end shops and boutiques catering to luxury shoppers. The building is spacious and well-designed, with a wide range of high-end fashion brands, including Hugo Boss, Armani, Calvin Klein, and Tommy Hilfiger, among others. Additionally, shoppers can find a range of luxury goods, such as jewelry and beauty products. Weltstadthaus also has several dining options, including a rooftop restaurant with stunning views of the city, as well as many cafes throughout the building.
Peek & Cloppenburg Weltstadthaus (Global City Building) on Map
Walking Tours in Cologne, Germany