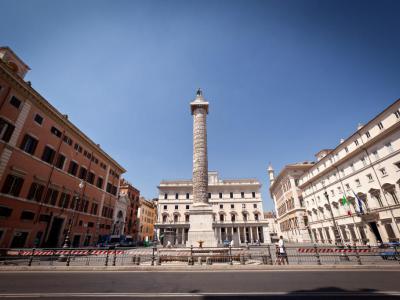 Piazza Colonna. Column and Fountain, Rome
Piazza Colonna is part of the historic heart of Rome, and is named so for the massive 30-meter marble column of the Roman Emperor Marcus Aurelius.

Built in the Doric style and adorned with intricate carvings, this column was erected after the death of Marcus Aurelius in the 2nd century AD; however, during its restoration in the 16th century, Pope Sixtus V ordered a statue of St Paul to be set on top of it. Whether this was done in a bid to remove any lingering trace of paganism or to match it with Trajan's Column (located nearby on Via dei Fori Imperiali) where the same pope had a statue of St Peter placed on top, remains unknown.

If you have a long lens camera or binoculars, do care to take a closer look at the reliefs near the column's top, as they are in much better shape than those near the ground level. Among the highlights, there are the strange and compelling images of a supernatural figure invoking a miraculous storm that once saved the Roman army during a battle.

While there's no doubt that the column steals all the attention, the square also houses a small fountain originally built in the 16th century to provide Roman residents with clean drinking water. Made of pink marble from the Greek island of Chios, it features 16 carved white marble lion heads around its oval basin. At either end of the basin, two 19th-century groups of dolphins wrap their tails around seashells, spouting water from their mouths.

The square is framed on three sides with the imposing buildings raised between the 16th and 19th centuries. One of them is the Palazzo Chigi, built in 1562, currently the official residence of the Italian Prime Minister. The other one is the 17th century Palazzo Wedekind standing on the site once occupied by the Temple of Marcus Aurelius. The beautiful columns on the ground floor of the palace were taken from the Etruscan city of Veii conquered by the Romans in the 4th century BC.
Piazza Colonna. Column and Fountain on Map
Walking Tours in Rome, Italy
Useful Travel Guides for Planning Your Trip
---