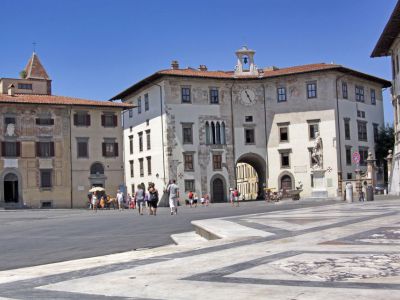 Piazza dei Cavalieri (Knights Square), Pisa
(must see)
During medieval times, Knights' Square was Pisa's political center. Before that, it was likely the site of the Roman Forum.

In 1406, Florence's emissary announced the end of Pisa's independence in this square.

In the 16th century, Cosimo I de Medici, the Grand Duke of Tuscany, commissioned Vasari to recreated the square in Renaissance style. The Knights of St Stephen had recently inaugurated the Order of the Knights, and the square was dedicated to them. The Order of the Knights of Saint Stephen was established to defend the coast from Turkish pirates.

A 1596 statue of the Grand Duke of Tuscany stands in the center of the square.

Knights Square is home to several landmark buildings. The Cavalieri Palace was also called Palace of the Convoy due to the three-year training Order initiates undertook here. The palace is adorned with artistic graffiti representing allegorical figures, zodiac signs, and busts representing the Grandukes of Tuscany.

The Clock Palace is famous as the site where Count Ugolino was held prisoner and died of starvation. Today, the palace is home to the University library.

The Puteano College was established in 1605. In addition, the Consiglio dei Dodici Palace features valuable 18th-century paintings.

The Church of the Knights of the Holy and Military Order of St. Stephen was designed by Vasari and completed in 1569. Inside, visitors will see naval banners captured by successful Knights of St. Stephen.
Piazza dei Cavalieri (Knights Square) on Map
Walking Tours in Pisa, Italy