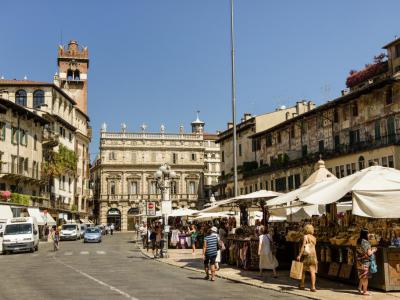 Piazza delle Erbe (Market Square), Verona
(must see)
Market Square was originally the site of a Roman forum, or square, which hosted exciting chariot races. It is also known as the square of herbs. Historically, various aromatic spices, herbs, coffee beans, and textiles were shipped to Venice and imported to Verona's Market Square.

In keeping with tradition, the square hosts a market from Monday to Saturday. This market features souvenir vendors as well as farm-fresh produce and flowers.

Market Square is full of historical and architecturally interesting buildings. The oldest landmark is the Madonna Verona statue which dates to 380 AD. Madonna Verona stands on a fountain created in 1368.

Several important buildings occupy the northern side of Market Square. The ancient town hall, Giudici Palace, Mazzanti Houses, and the Lamberti Tower are all on the square's north side. The Mazzanti Houses date to the 14th century.

On the north-western side, there is Maffei Palace which was expanded in the 15th century by Marcantonio Maffei. He added a third floor to this Baroque-style palace. The facade has six impressive statues: Hercules, Apollo, Minerva, Venus, Mercury, and Jupiter. The northern end of Maffei Palace now houses shops.

The Roman Capitol Hill is on the northwest side of the square, along with several frescoed buildings. The House of the Merchants is on the south side.

The 13th-century capitello was used for important ceremonies. The Gardello Tower is ancient and was restored in the 14th century.

The Commune Palace serves as a municipal hall. This hall was built in the middle ages and updated with a neoclassical frontage in the 19th century.

Why You Should Visit

As in ancient times, come for the gorgeous market with its intoxicating herb and spice aroma. Then, stay for the remarkable history and varied architecture, including Romanesque, Neoclassical, and Baroque.

Tips

Don't miss the winged lion statue, known as a Marcian Lion or Lion of Saint Mark. It's located on a column in front of Gardello Tower and Maffei Palace. The Lion of Saint Mark is a symbol of Venetian rule, and several depictions are seen around Verona.
Piazza delle Erbe (Market Square) on Map
Walking Tours in Verona, Italy