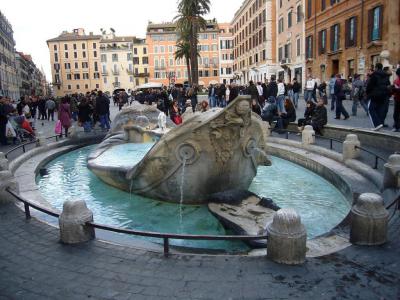 Piazza di Spagna. Fountain of the Longboat, Rome
With its Spanish Steps overlooked by the Trinita dei Monte Church, Piazza di Spagna is one of the most visited squares in Rome. While the famous staircase is a favorite spot among tourists to relax and enjoy the views, the area is practically synonymous with high-fashion and luxury, thanks to the many designer shops lying on the surrounding streets.

In this piazza, you will also find one of the most remarkable fountains in Rome, called Fontana della Barcaccia ("Fountain of the Longboat").

Created in the 1620s, it is the work of Pietro Bernini, the famed sculptor and a go-to man for Pope Urban VIII on many occasions, who also contributed to the creation of the Neptune Fountain in Naples and made statues for numerous churches throughout Italy. Initially collaborating with his son, Gian Lorenzo, the old Bernini was later overshadowed by the young man's talent in marble cutting. In fact, this fountain is often attributed to both Bernini the father and the son.

The design is based upon a real-life event. Back in the 15th-16th centuries the River Tiber regularly flooded the area and a legend has it that one flood was so devastating that Piazza di Spagna remained submerged for several weeks. When the water receded, a boat was found in the square that inspired Bernini in his choice of a subject for the new fountain. The boat is depicted as half sunk in its basin with water spilling over the bows and trickling out of the side of the prow.

Many a people like to sit on the benches, basking in the sun, near the fountain, listening to its gurgle. Because of the low water pressure in the area, the water doesn't come out in a jet and, luckily, no-one has ever thought of changing that by adding a pump. Famous English poet John Keats, who used to live nearby up until his death in 1821, is said to have heard the sound of water lying in his deathbed, upon which he asked that the words "Here lies one whose name was writ in water" be inscribed on his tombstone.
Piazza di Spagna. Fountain of the Longboat on Map
Walking Tours in Rome, Italy
Useful Travel Guides for Planning Your Trip
---