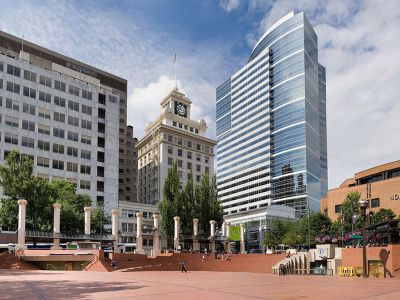 Pioneer Courthouse Square, Portland
Pioneer Courthouse Square is Portland's central hub – a pleasant, sunny spot made perfect for sampling the city's essence. The equivalent of a New Mexican/Californian plaza, it hosts food carts, public art pieces (e.g., Seward Johnson's 'Allow Me', also known as 'The Umbrella Man'), a Monday farmers' market, cultural festivals, a visitor center with a clean public bathroom... you name it! The water feature in the form of a cascading waterfall does make this a picture-perfect place.

Part of the square's immediate success in the 1980s was due to its timing, affirming as it did the "new age of the pedestrian" heralded by the transit mall. Designs were submitted from around the world, and models of the best submissions were put on display. The winning scheme was a simple brick-paved plaza with a waterfall, an arc of steps overlooking a central arena, and a whimsical colonnade separating it from the streets. The public was further drawn into the venture by funding construction through buying individual bricks; thus, from the first concept, ordinary people took possession of the square as their own. It is a place where everyone is welcome, a place to see and be seen, or just to chill out amid the hubbub of the working day. Danish architect Jan Gehl who, for more than fifty years, has focused on improving the quality of urban life by helping people to "re-conquer the city", has acclaimed it as one of the world's best public squares.
Pioneer Courthouse Square on Map
Walking Tours in Portland, Oregon