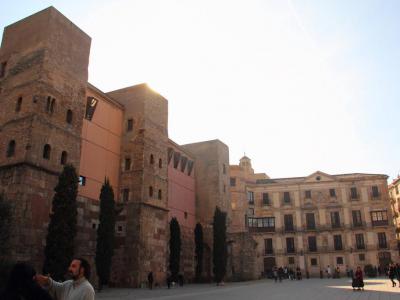 Placa Nova (New Square), Barcelona
Plaça Nova, or the New Square, offers a rich experience for history and art enthusiasts. It holds significant historical value as the birthplace of the ancient city of Barcino, and visitors can marvel at the monumental gateway that once formed part of Barcelona's Roman wall. Among other highlights is the renowned Architects' Association of Catalonia building adorned with sand-cast friezes designed by Pablo Picasso. The square also showcases splendid examples of Gothic art and architecture.

With roots dating back to 1358, when it served as a hay market, the square allows visitors to witness remnants of the Roman wall and gateway that once led to the Forum. Flanking the gate are two circular towers, which were added during 12th-century renovations, although the original defense towers and walls trace their roots back to the 1st century BC and the 4th century AD. Adjacent to the Archdeacon's House, visitors can observe a replica of a section of the Roman aqueduct, serving as a reminder of the city's water supply. Across from it, a visual poem by Catalan artist Joan Brossa spells out the word "Barcino", further enhancing the square's artistic charm.

Tip:
On Thursdays from 9am to 8pm, the square transforms into a market featuring antique dealers. Plaça Nova is also a venue for festivals and Sardanas, particularly around August 16, the day of Saint Roch. This festive celebration showcases unique traditions and adds a distinct charm to Barcelona's cultural tapestry.
Placa Nova (New Square) on Map
Walking Tours in Barcelona, Spain
Useful Travel Guides for Planning Your Trip
---