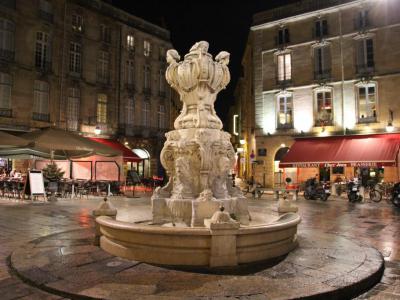 Place du Parlement (Parliament Square), Bordeaux
The Parliament Square is linked by Philippart Street to the Stock Exchange Square, one of the city's most famous sights. It stands out for reflecting in the Garonne at night – a feature known locally as the 'water mirror'. While less known, Parliament Square is perhaps a more central location for the Bordelais themselves – it is popular for its many bars, restaurants and cafes, with terraced seating surrounding the edge of the square. The name itself means 'place of discussion', although the word 'parliament' has links with royal institutions.

Once known as the 'Royal Market Place', the square appears to be a complete architectural project, with consistent design features on all four sides. These include a balustrade that runs around the square and arcaded ground floors to house additional shops and eateries. It also has a large neo-Renaissance fountain at its center.

Close to many of Bordeaux's more famous avenues, including Place Pey Berland and the Esplanade des Quinconces, it is a lively spot to stop for a bite to eat, particularly in the summer months, when outdoor dining is available late into the evening.

Why You Should Visit:
A pleasant spot with a pretty fountain, that you will probably pass through a number of times when walking around Bordeaux.
Close to all of the central attractions and main thoroughfares, and a good place for a coffee or a lunch break.

Tip:
Try to get here during the day when it's bustling and then again...after dark. The buildings are lit up so it becomes magical.
Place du Parlement (Parliament Square) on Map
Walking Tours in Bordeaux, France