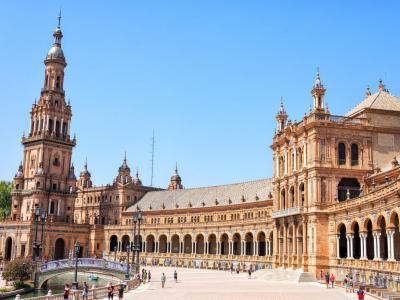 Plaza de Espana (Spain Square), Seville
(must see)
Some say Seville was founded by Hercules. Hercules could not be reached for verification. Waves of Carthaginians, Romans, Goths, Vandals, and Moors have seen Seville since Hercules. None of them have seen the Spain Square.

The square is situated at the edge of Maria Louisa Park, Seville's largest green area. In 1914 Anibal Gonzales, architect, began work in preparation for the Ibero-American Exposition of 1929. Using the styles of Art Deco and Spanish Renaissance Revival, Spanish Baroque Revival and Neo-Mudejar, Anibal created the Spain Square.

The square is embraced by a semi-circle of exotic buildings and towers bordering a moat. The moat encloses a vast open space. In the center of the space is the Vicente Traver fountain. The buildings are reached by four bridges that stretch over the moat. Take a boat ride in the moat and view the square around you. It's like floating in a dream.

The four bridges represent Castile, Leon, Aragon, and Navarre, the four ancient kingdoms of Spain. Around the edges of the square are 52 niches or alcoves. Each is a tiny pavilion of colorful azulejo tiles, depicting a province of Spain. Each alcove has shelves used as a lending library, offering books on the provinces.

The Ibero-American Exposition was meant to show a reconciliation between Spain and her former American colonies and territories. There was a great need to build a modern state and reestablish economic and cultural ties to the New World. The square holds this vision of a glorious past and a promising future, embracing it in the heart of Spain.

Why you should visit.
To experience the soul and grandeur of this city.
Plaza de Espana (Spain Square) on Map
Walking Tours in Seville, Spain
Useful Travel Guides for Planning Your Trip
--- 16 Uniquely Spanish Things to Buy in Seville
Immortalized by Gioachino Rossini in his famous The Barber of Seville opera, the city of Seville is a major historic and cultural sight adorning the face of modern Spain. Much of the city's character is reflected in the locally-made products that can make for a great gift or trip memento...