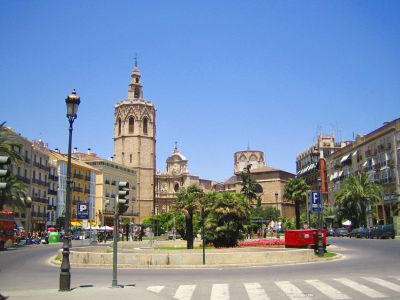 Plaza de la Reina (Queen Square), Valencia
Queen Square is one of the oldest and busiest squares in Valencia. The square was founded in 1878 on the wedding day of King Alfonso XII and Maria de la Mercedes. The square was named in honor of the new queen.

The square took many decades to complete. Though groundbreaking took place in 1878, the construction continued through the mid-20th century. Today, visitors will see green grass, flower gardens, palm trees and benches. They will also see easy access to many interesting spots to eat and shop while in the city.

The square is surrounded by cafes, restaurants, shops and historic buildings. Among the most notable is the Cathedral of Valencia which is accessible via the Door of the Irons located on the square.

Queen Square is a good place to stop on the way to the Valencia Cathedral. It is only a short walk from the Silk Exchange.
Plaza de la Reina (Queen Square) on Map
Walking Tours in Valencia, Spain