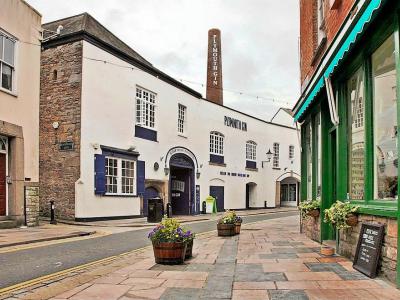 Plymouth Gin Distillery, Plymouth
(must see)
Located in the Barbican district of Plymouth, the Plymouth Gin Distillery dates from the early 1400s. The most intact part of the distillery is the Refectory Room, a medieval hall with a fine hull-shaped timber roof built in 1431. It is one of the oldest buildings in Plymouth, protected as a precious national monument. It is said that the Distillery buildings were once a monastery of the Dominican Black Friars.

In 1536 the Black Friars monastery fell victim to the storms of the Reformation. The monastery was dissolved, and the buildings were used as a Marshalsea (debtors' prison). It was later a non-Conformist meeting hall and a haven for Huguenot refugees fleeing France.

According to local legend, in 1620, some Pilgrim Fathers spent their last night in England at the old monastery while their ship, Mayflower, was in the harbor for repairs before finally setting sail to North America. This is where the Mayflower on Plymouth Gin's trademark originated.

Black Friars has had a working gin distillery on the premises since 1697. In 1793, the distillery of Coates & Company was joined by the firm of Fox & Williamson. The business retained the name of Coates & Company. In 2005 the firm was acquired by the Swedish company V&S Group and later by the French company Pernod-Ricard.

Plymouth Gin is an actual brand name and may only be produced in the town of Plymouth. The distillery fought several legal battles to preserve its reputation. The gin had become the official gin of the British Royal Navy officers' messes. For almost 200 years, a navy ship would never leave port without a bottle of Plymouth Navy strength Gin onboard.
Plymouth Gin Distillery on Map
Walking Tours in Plymouth, England