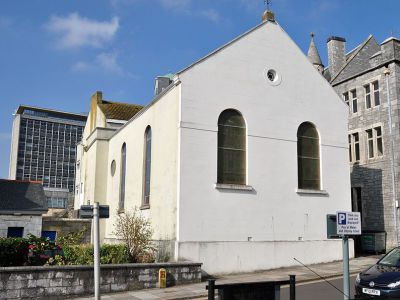 Plymouth Synagogue, Plymouth
Jewish immigrants arrived in Plymouth in the 1700s from the Germanic lands and the Netherlands. The Ashkenazi community of Plymouth built its synagogue there in 1762. The Plymouth Synagogue continues to serve its congregation today as the oldest extant Ashkenazi synagogue in the English-speaking world.

The founding community was mainly members of the very extended Emden family. They were planning their synagogue in 1758. In 1762 building land lease was signed by Samuel Champion, a non-Jew, since leases signed by Jews were not legal. The congregation bought the land outright in 1834.

There are no records of the architect's name who designed the synagogue. It is assumed that the rectangular, pitched-roof structure was designed and erected by a local master builder. The building is plain, made of whitewashed brick, and covered with a roof of grey slate. The synagogue seems to be hidden, which is likely. The building looks quite like a nonconformist Protestant church.

An adjacent building of 1874 houses several synagogue offices. A white-tiled ritual bath (mikveh) is next to the vestry. The interior is plain except for the Torah Ark, the chamber for the sacred scrolls. The Ark is an ornate structure two stories high. It has Corinthian fluted columns, a pediment with finials, and urns in gold.

The Ten Commandments, in gold leaf on a blue background, adorn the second-story cornice. The Torah Ark is a free-standing structure imported from Holland and assembled in Plymouth.
Plymouth Synagogue on Map
Walking Tours in Plymouth, England