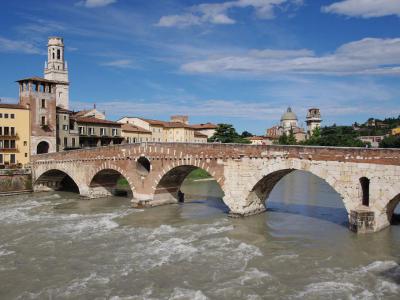 Ponte Pietra (Pietra Bridge), Verona
(must see)
Ponte Pietra (Stone Bridge) stands as the earliest construction created by the Romans upon their arrival in Verona during the first century B.C. This bridge showcases a blend of two distinct materials: the original white stone and the bricks utilized to replace sections damaged by floods and warfare. It retains the iconic arched design commonly associated with Roman bridges, resembling the shape of a donkey's back.

In the early 1st century BC, Romans settled in Verona, strategically on a curve of the Adige River, offering natural defense for about two-thirds of the city. They built a bridge at the river's northern curve to stay connected and avoid isolation, using the rocky riverbed and shallower water for stability.

Originally referred to as Pons Lapideus, the Roman bridge's literal translation eventually evolved into Ponte Pietra. This renaming perhaps emphasized the contrast with the earlier, fragile wooden bridge, which undoubtedly required frequent reconstruction after the Adige's recurrent floods.

Ponte Pietra featured a simple yet functional design. Its Roman arch shape had a central high point, creating more space above the water. This helped during floods in the Adige River. There were two openings for water flow: a circular one at the middle and a long narrow one on the left pillar. The bridge had five arches made of white stone blocks. A sculpture of a river deity adorned one arch, adding a touch of decoration to its overall simplicity.

Ponte Pietra, damaged by Adige River floods, was restored multiple times. Two original white stone arches from Roman times remain, while two right arches were rebuilt with brick in the Scaligera period. The central arch is from the Venetian era. The bridge also has a tower from the Middle Ages for city defense.
Ponte Pietra (Pietra Bridge) on Map
Walking Tours in Verona, Italy