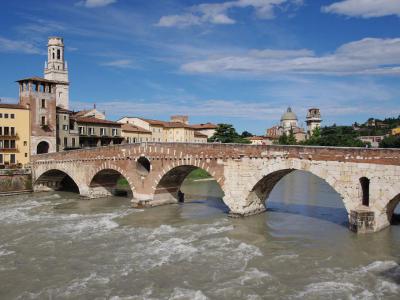 Ponte Pietra (Pietra Bridge), Verona
(must see)
The Ponte Pietra, or Stone Bridge, is the oldest bridge in Verona. It was completed in 100 BC by the Romans. The Ponte Pietra crosses the Adige River. In Roman times, the Via Postumia connecting Genoa to Aquileia passed over the bridge.

It was originally built to provide the city access from the west bank to the Roman theater on the east bank. The bridge has been rebuilt several times. Four of the arches were destroyed by German troops during World War II. These arches were reconstructed in 1957 with original stone materials reclaimed from the river.

The lighter color bricks on Stone Bridge are from Roman times.

While walking the bridge is an excellent way to soak up two thousand years of history, be sure to walk down the river and look back for spectacular photos.
Ponte Pietra (Pietra Bridge) on Map
Walking Tours in Verona, Italy