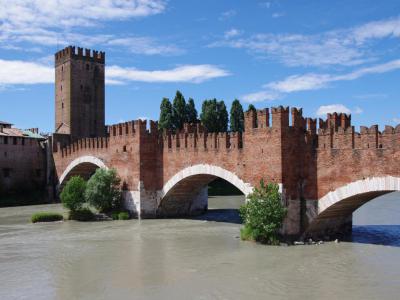 Ponte Scaligero (Scaligero Bridge), Verona
(must see)
Scaligero Bridge is a three-arch bridge that spans the Adige River. It was built in 1375 for the Scaliger family who wanted to use the bridge as an escape route from the Old Castle to the river.

The overpass spans 120 meters and connects the city to the road that leads to Tyrol. It is one of the most photographed viaducts in the city and a popular transport path for pedestrians. As with many other structures, the original bridge was destroyed by the Germans during World War II. Fortunately, it was reconstructed in the 1950s using many of the original parts.

The upper part of the bridge is red brick, while the lower part of it is white marble. Local legend says that the Lord of Verona awarded the designer a sword that belonged to St. Martin for his efforts. The bridge resembles a small fortress during the day and is absolutely stunning when viewed at night when it is beautifully lit.

Why You Should Visit:
Stunning views up and down the river and some wonderful city skylines to be photographed. A must-see sight of medieval Verona.

Tip:
Explore the numerous staircases and ramparts – many great photos can be taken on the fortified walls.
Ponte Scaligero (Scaligero Bridge) on Map
Walking Tours in Verona, Italy