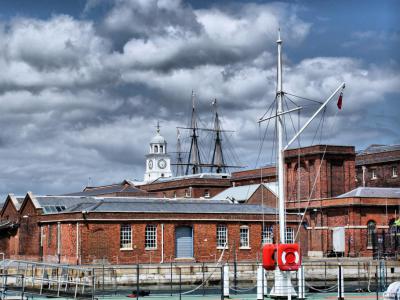 Portsmouth Historic Dockyard, Portsmouth
(must see)
Portsmouth has been one of the four major Royal Navy Dockyards or Bases throughout the history of England. Richard I of England built the first dock in Portsmouth in 1194 and then scampered off to the Holy Land. His testy brother John added walls in 1212. In 1242 King Edward II required all southern ports to build the largest possible ships.

Portsmouth is said to have built the first dry dock in the world, ordered by Henry VII in 1495. The first warship built in Portsmouth was the Sweepstake, a carrack launched in 1497. Ships from Portsmouth helped drive off the Spanish Armada of 1588.

The Portsmouth Historic Dockyard is that part of HM Naval Base Portsmouth, which is open to the public. The National Museum of the Royal Navy opened in 1911. Historic vessels and more modern ships are on exhibit in the Dockyard.

The HMS Victory, Lord Nelson's flagship at the battle of Trafalgar, is the star of the show. Victory has been open to the public in her dry dock, still seaworthy after 200 years. HMS Warrior was the first iron-plated, iron-hulled warship. Launched in 1860, she was open to visitors in 1987. HMS M33, First WW I monitor, opened in 2015.

The Mary Rose, a short-lived jewel of Henry VIII's Tudor fleet, is not seaworthy. She sank in 1545 while Henry watched. He is said to have wept. Salvaged in 1982, the ship rests on display in a specially built museum structure that houses thousands of artifacts found in the wreck.

The Portsmouth Naval Base Property Trust is responsible for the maintenance and upkeep of all historic buildings and exhibits of the Historic Dockyard. The Trust established the Memorial Flotilla, a collection of antique boats. A new museum, micro-brewery, pub and restaurant, and holiday residences have been recently built or are "on the way" to be launched.
Portsmouth Historic Dockyard on Map
Walking Tours in Portsmouth, England