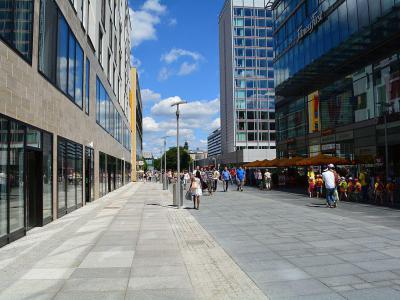 Prager Straße (Prague Street), Dresden
Prague Street was built between 1851 and 1853 as a connecting street between a new train station and the city center. The street became a popular shopping and entertainment street. The street was destroyed during World War II and later rebuilt as a pedestrian-only zone. Instead of following the original plans, the street was rebuilt as a wide, modern street.

Prague Street features residential apartment buildings, hotels, and shops. Visitors will find various gardens, fountains, and sculptures as they walk.

The Centrum-Galerie features a remarkable aluminum facade with a unique honeycomb design that echoes the original Centrum department store's design. The UFA Crystal Palace was built in 1998 and features a dramatic design using glass and concrete.

Today, Prague Street is an attractive shopping street. Visitors will find popular department stores and over 100 shops, cafes, and restaurants.
Prager Straße (Prague Street) on Map
Walking Tours in Dresden, Germany