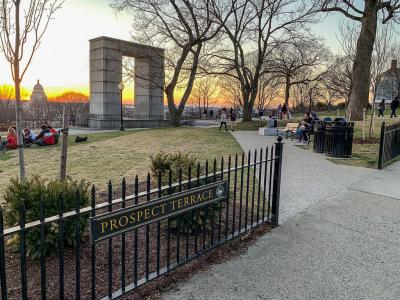 Prospect Terrace Park and statue of Roger Williams, Providence
Prospect Terrace Park is located on Congdon Street in the College Hill neighborhood of Providence. The park, founded in 1867, overlooks the city's "downcity." Author and Providence native H. P. Lovecraft frequently visited the park.

A statue of theologian Roger Williams was built in the late 1930s after Williams' descendant Stephen Randall made a deed of gift for the monument. The 35-foot stone statue commemorates Williams' founding of the state of Rhode Island and his promotion for religious freedom. The statue depicts Williams gazing over the city.

In 1939, Roger Williams remains were moved into a tomb that lies directly beneath the statue. His body had been overgrown by the roots of an apple tree next to his original grave. The roots grew over the form of his body, so that it looked identical to a human form. The remainder of his bones were reburied in a bronze casket and placed beneath his statue in Prospect Terrace. The so-called "William's Root" is preserved and is now on display at the John Brown House Museum on the East Side of Providence.
Sight description based on Wikipedia.
Prospect Terrace Park and statue of Roger Williams on Map
Walking Tours in Providence, Rhode Island