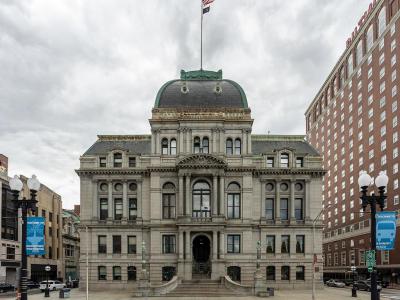 Providence City Hall, Providence
Providence City Hall is the municipal government building. It remains the location of such government offices as the Voter Registration office, City Registrar and Department of Vital Statistics. It is also open for self-guided, public tours.

Construction of the building began in 1875 and was completed in 1878. It was designed by Samuel J.F. Thayer in the Second Empire architectural style. The building is made of cast iron, masonry and granite. The first of its five public floors was built five feet above street level in order to protect against flooding, though there is now a street-level entrance accessible to the general public.

The Gallery at City Hall is on the second floor of the building. It showcases work from local artists with monthly exhibits. Student art is regularly displayed in this gallery.

The building fell into disrepair and was slated for demolition until a plan was put into place to restore the building to its former glory. Historians Antoinette Downing, Frank Mauran III and Irving B. Haynes led the restoration work, which began in 1975 and was completed in the 1990s. Providence City Hall was added to the National Register of Historic Places in 1975.
Providence City Hall on Map
Walking Tours in Providence, Rhode Island