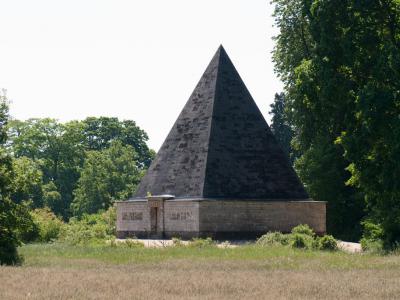 Pyramide (Ice House), Potsdam
The Pyramide is a masonic building located near the Marble Palace in the New Garden. It was designed by architects Carl Gotthard Langhans and Andreas Ludwig Kruger, who were freemasons. Its construction was ordered by Friedrich Wilhelm II. It was completed in 1792.

The building was used as an ice house. Frozen lake ice was stored in the floor of the Pyramide's cellar where perishable food was kept cool throughout the year. The cellar of the Pyramide is about five meters (16 feet) underground.

Visitors may not enter the Pyramide due to its poor condition. However, it is still a lovely sight that is an important part of any Potsdam tour. Along with the unique design, the exterior of the Pyramide displays Egyptian hieroglyphics and astrological signs.

Egyptian-inspired decor and architecture is found throughout the New Garden. Some of these items include a variety of obelisks, two Antinous statues and a sphinx. The Pyramide was the first Egyptian-inspired building on the grounds.
Pyramide (Ice House) on Map
Walking Tours in Potsdam, Germany