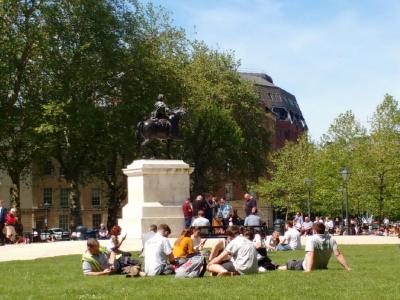 Queen Square, Bristol
Queen Square is a public green space in Bristol. It was originally established in 1699 and named in honor of Queen Anne. It was conveniently by the harbor, which led to its popularity with local merchants.

The square suffered from decline over the years, particularly after a riot in 1831 that caused the destruction of many of the square's buildings. It became the location of a double highway, or carriageway, in the early 20th century. There were an estimated 20,000 vehicles driving through the middle of Queen Square every day by 1991.

In 1999, the city chose to divert traffic in order to restore the square to its former glory. It is now a popular tourist destination that receives about 1.6 million unique visitors per year. Within the square is a statue of William III that was erected in 1736. The square is surrounded by a number of buildings that were constructed in the 18th century.
Walking Tours in Bristol, England