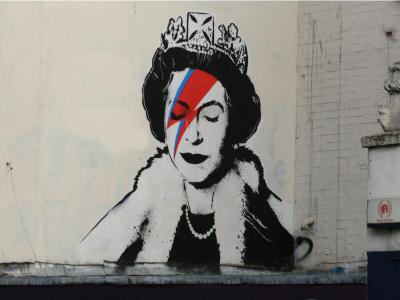 Queen Ziggy, Bristol
A wall on Upper Maudlin Street, near the Bristol Children's Hospital, previously daubed by Banksy, was re-painted again in 2012 – this time with a startling black-and-white image of the Queen. The painting mysteriously, and timely so, appeared as the country celebrated Queen Elizabeth II's 60 years on the throne. Banksy is firmly believed to have made this piece as his own tribute to Her Majesty's Diamond Jubilee, depicting the crown-wearing monarch with a jagged blue and red lightning flash across her face, just like the 1970s David Bowie creation Ziggy Stardust/Aladdin Sane.

The artwork adorns the wall next to Bristol charity the Grand Appeal, which raises money for the Children's Hospital.
Walking Tours in Bristol, England