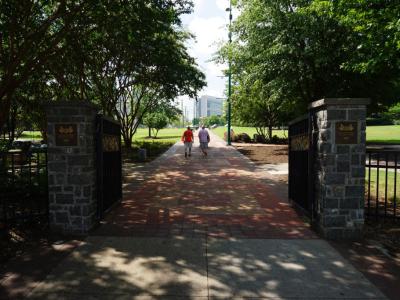 Quilt of Remembrance, Atlanta
The Quilt of Remembrance Plaza is a place of reflection and remembrance. Visitors can pay their respects to the victims of the 1996 Olympic bombing and other acts of domestic terrorism by viewing the Quilt of Remembrance, which consists of 71 panels featuring the names and photographs of those who lost their lives.

The plaza also features a memorial fountain, surrounded by a mosaic depicting the Olympic rings and the names of the 1996 Olympic sponsors, and serving as a place for visitors to sit and contemplate.

In addition to the Quilt of Remembrance and the memorial fountain, the plaza features a number of benches and seating areas, as well as informational plaques detailing the history of the bombing and the efforts to create the memorial. It is a peaceful and solemn space that honors the memories of those who lost their lives and serves as a reminder of the need for peace and understanding in society.
Quilt of Remembrance on Map
Walking Tours in Atlanta, Georgia