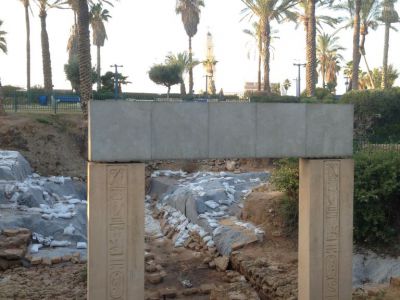 Ramses II's Gate Garden, Tel Aviv
The Ramses II's Gate Garden in Tel Aviv, stands as a testament to the rich and layered history of the region. Located in the central part of Jaffa, an area with a deep historical context, the garden marks the site of an ancient Egyptian fort. The highlight of this tranquil park is a restored gateway dating back to the era of Ramses II, who ruled Egypt from 1400-1200 BC. This significant artifact is accompanied by numerous other findings from various periods, illustrating the diverse influences that have shaped the area.

The gateway itself is a relic from a time when the Egyptians exerted control over Canaan. It served as a strategic point for the local garrison, guarding both the gate and the nearby port. The restoration of this gateway, along with the discovery of many other artifacts, provides a tangible connection to the ancient past.

The Garden's location in the heart of Old Jaffa makes it easily accessible from different points of the old city. Visitors are treated to a magnificent panoramic view of Tel Aviv and the coastal plain from its summit. Central to the garden is a reconstruction of Ramses II's triumphal arch, set among other archaeological discoveries. This reconstruction and the surrounding artifacts create a vivid picture of the area's historical significance.

Ramses II's Gate Garden is more than just a pleasant spot in the center of Old Jaffa; it's a place where history comes alive. The fragments of Ramses II's triumphal arch, uncovered in the 1960s, are a highlight for visitors. This garden is an ideal starting or ending point for a tour of Old Jaffa, offering a moment of tranquility amidst the bustling city.
Ramses II's Gate Garden on Map
Walking Tours in Tel Aviv, Israel