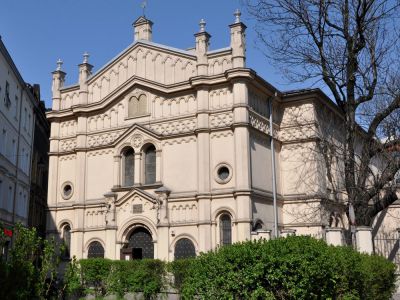 Reformed Temple Synagogue (Synagoga Tempel), Krakow
Situated within the Kazimierz district, the Reformed Temple Synagogue stands as a remarkable testament to the convergence of Jewish and Polish cultural influences. Constructed during the late 19th century, this synagogue serves as a vivid representation of the opulence and vitality that characterized the Jewish community prior to the onset of World War II.

Architected by Ignacy Hercok, this captivating edifice serves as a prime exemplar of neo-Renaissance and Moorish Revival architectural styles. The structure's rectangular form, accentuated by a soaring central segment, draws inspiration from the Leopoldstädter Tempel in Vienna, Austria. While the exterior is striking, the interior of the building is even more breathtaking. Elegantly adorned with stained glass windows, intricate gold leaf embellishments adorning the ceiling and walls, and a resplendent golden wooden gallery, the synagogue's interior exudes true magnificence. Notably, the synagogue stands out by embracing an inclusive approach, shunning gender-based segregation of its audience and providing services in Polish, Hebrew, and German.

The temple faced its most challenging period during World War II, when it was repurposed by German forces as a storage facility for ammunition. Ravaged by considerable damage during the conflict, the structure underwent a painstaking restoration process that concluded in 1995. Whether one is captivated by its architectural finesse, its interior opulence, or its poignant place in the annals of Krakow's history, a visit to the Synagoga Tempel is undeniably worthwhile.
Reformed Temple Synagogue (Synagoga Tempel) on Map
Walking Tours in Krakow, Poland